Fast Facts
EIFFEL (Revealing the Role of GEOSS as the Default Digital Portal for Building Climate Change Adaptation & Mitigation Applications)
Starting day → 01 / 06 / 2021
Project information → 36 months, 19 partners, EU contribution 4.999.466,25 €
Call (part) identifier → H2020-LC-CLA-2018-2019-2020
Topic → LC-CLA-19-2020-Building a low-carbon, climate resilient future: climate action in support of the Paris Agreement
Coordinator → Institute of Communications and Computer Systems (ICCS)
EU Project Officer → Izabela Freytag
The stairway to excellence
EIFFEL will offer the EO-based community the ground-breaking capacity of exploiting existing GEOSS and external datasets and build upon prior knowledge, with minimal new data collection activities. Added-value services interoperable with GEOSS will be designed, using cognitive search and metadata augmentation tools based on Artificial Intelligence (AI), including Natural Language Processing. These tools will leverage advanced cognitive features to extract meaningful information from and enrich GEOSS metadata. Moreover, novel methods (super resolution, data fusion) for augmenting the spatiotemporal resolution of explored EO data will be proposed, in order to address the needs of the diverse EIFFEL Climate Change adaptation and mitigation applications. The latter will cover: (i) a set of five different GEO Societal Benefit Areas (SBAs), namely in Water and Land Use Management, Sustainable Agriculture, Transport Management, Sustainable Urban Development and Disaster Resilience domains; (ii) various EU geographical and climatic regions, at local, regional, national, cross-border and pan-European scales. Further, the value of using explainable AI techniques for improving the credibility and comprehensiveness of such Climate Change applications, so that they can offer actionable insights to the decision makers, will be showcased. EIFFEL will foster the co-design of Climate Change adaptation policies and mitigation strategies and monitor Climate Change effects in the respective regions. The project, in line with EuroGEO's emphasis on early engagement with stakeholders and their participation in the application design, has ensured that they are active consortium members. EIFFEL complies with the framework of results-Oriented GEOSS, to improve the delivery of applications tailored to decision making centres and will actively participate in the GEO Work Programme post-2019. Last, it provides tangible proof of the value of GEOSS data for creating Climate Change applications and encourages projects and initiatives to offer their data through the portal.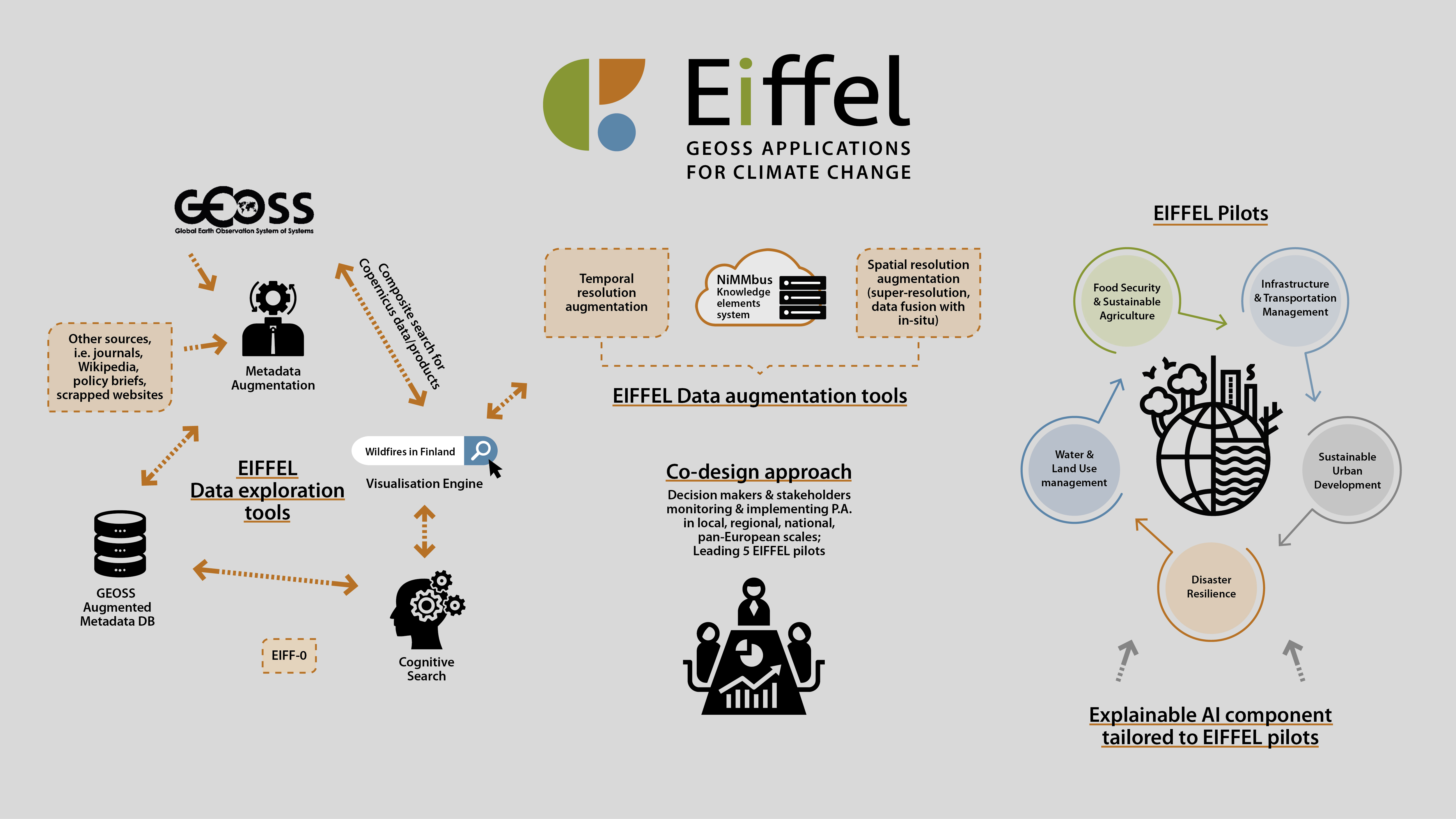 EIFFEL will design and deploy to Technology Readiness Level (TRL) 6 an integrated palette of added-value tools and services to maximise the exploitation potential of GEOSS for Climate Change adaptation and mitigation applications. Intuitive tools will be created to extract meaningful information from GEOSS (big) datasets, by greatly facilitating search, reuse and augmentation of available data. Experts and non-experts will have the ability for natural language queries to the GEOSS portal. Easy-to-use visualisation tools will augment the search and results filtering process. Specifically, for Copernicus data retrieval (raw Sentinel and products), an improved data extraction method will be showcased, by making possible composite searches based on conditions relevant to GEOSS data sources. Further, through an evolution of NextGEOSS' NiMMbus system for Geospatial User Feedback, augmented metadata and user feedback shall be consolidated into an insightful indication of the data quality, useful for other GEOSS users. After a user obtains the most relevant existing datasets, appropriate EIFFEL tools will be mobilised for improving the temporal and spatial resolution of the data, according to the specific application's needs and requirements. For this task, gap filling, synthetic data generation, temporal downscaling and other stochastic methods shall be deployed, when possible, in order to increase data temporal resolution. Moreover, data fusion with in-situ and, in some cases, socio-economic data, as well as AI-based super resolution techniques shall be employed at appropriate scales, with an aim of increasing data spatial resolution.
The added value of the EIFFEL horizontal tools will be shown in 5 distinct Climate Change oriented and innovative pilots: supporting water/land management stakeholders in implementing adaptation measures for increased water and soil carbon storage under enhanced climate impact atlases (Pilot 1); a cropland carbon monitoring system for post-CAP (Pilot 2); the design of regional pollution maps and seasonal preparedness tools for a port authority (Pilot 3); an application for inspecting urban GHG mitigation scenarios for building energy efficiency, photovoltaic penetration and vehicle fleet emissions (Pilot 4); drought, forest fire and pest risk assessment (Pilot 5).
EIFFEL follows a co-design approach for the design and validation of Climate Change applications: pilots are led by public organisations, responsible for implementing adaptation and mitigation measures and co-designed with the 'local' Community of Practices stakeholders.
Expected impacts of integrated GEOSS climate applications to support adaptation & mitigation measures of Paris Agreement:
Contribute to the direct support of the adaptation and mitigation measures of the PA, as well as the other GEO engagement priorities such as the Agenda for Sustainable Development, and the SFDRR 2015-2030.
Contribute to the European input to the GEO Work Programme post-2019 to address the Climate Change challenge cross-cutting all GEO Societal Benefit Areas (SBA) (e.g. for improved land use management).
Increase European capability to combine multiple EO data sets with models, socio-economic and in-situ data, based on a systematic exploitation of the GEOSS Platform.
Reinforce in-situ component of European observing systems for monitoring of internationally recognised Essential Climate Variables.
Contribute to the new EuroGEO pilot applications to better understand Climate Change contributors/impacts, minimise the degradation of the Earth system, support accountability to long-term goals, inform climate services, decision making.
Impact on the European industry & SMEs that target EO-based applications
EIFFEL will give a competitive advantage for new market opportunities and strengthen the competitiveness and growth of EO- and AI/ICT (Information and Communication technology) companies, by providing a very useful toolbox to capitalise on openly available datasets of GEOSS and external resources. EIFFEL's enabling AI-driven system for the development of not only Climate Change but, beyond this, EO-based and Copernicus downstream applications in general, removes several barriers of adoption in key European industries and sectors.
Societal-Economic | Policy Impacts
EIFFEL's groundbreaking methods of incorporating AI in the extraction of information from complex geospatial databases and in particular, the cognitive search mechanism and XAI methods for actionable insights, will contribute to the transformative impact that AI is expected to play on modern societies. The optimization of data exploitation will speed up development and improve applications' efficiency. EIFFEL can change the modus operandi of local authorities and other decision making centers, operating costs can be reduced, and the efficiency of operations can rise, for the benefit of citizens and local economies.
Impacts on Science
EIFFEL methods can dramatically improve the efficiency in researchers' workplaces, by severely cutting down resources needed for finding, combining and making data analysis ready, thus augmenting the overall scientific potential. The true disruptive scientific capacity of robust and open EO data can only be unlocked with the correct tools and EIFFEL cognitive search and metadata augmentation tools aim at building this capacity.